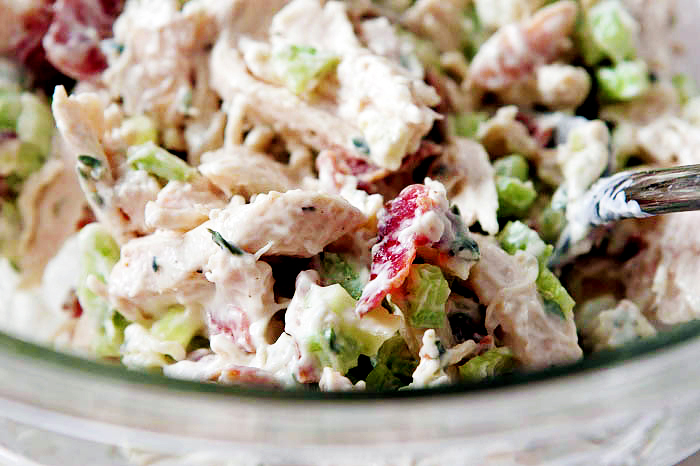 Ok, so I'm not usually a fan of chicken salad. I don't know what it is about, but I just have never liked it. Alas, when I saw this recipe that had bacon AND gorgonzola in the title, I HAD to try it. It did not disappoint! I may be a chicken salad convert now... well, only if it includes bacon and gorgonzola.
Now, I made some alterations, mainly I didn't use celery because I can't stand it (it's a texture thing, you know), but other than that, everything's the same and it glorious!
Please do enjoy Bacon Gorgonzola Chicken Salad...
Ingredients
3 cups cooked shredded chicken breast - I got a roasted chicken from the deli at Safeway (shreds like a dream!)
8 strips cooked crumbled bacon
1/4 cup crumbled gorgonzola cheese (added a little more because I heart gorgonzola)
3/4 cup finely chopped celery (didn't use)
1/2 cup mayonnaise
1/2 cup prepared blue cheese dressing
1 tablespoon fresh lemon juice
1 tablespoon fresh thyme leaves, finely chopped
1/4 teaspoon kosher salt
1/4 teaspoon freshly ground black pepper
1/4 teaspoon garlic salt
Directions
Place all ingredients into a large bowl. Stir to combine. Taste and season with additional seasonings if needed. Serve with firm crackers or serve inside a soft roll.
I haven't had it on a roll yet, but I have had it on the amazing Garlic Butter Ritz Crackers and they work PERFECTLY together! P.S. Garlic Butter Ritz Crackers are the bees knees.