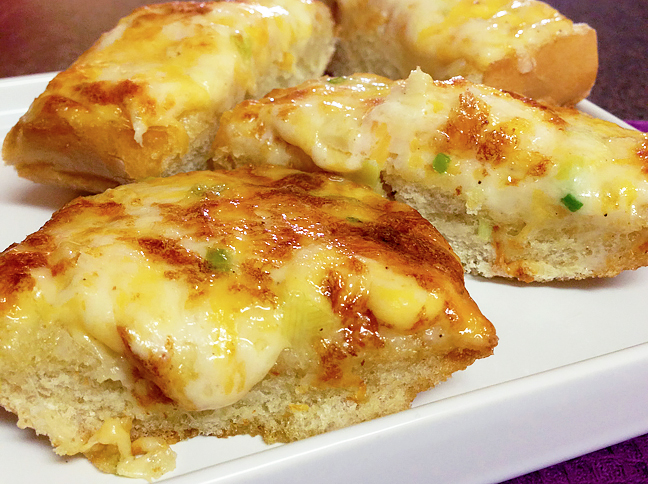 I love cheese. I love bread. I love garlic. So, basically, what I'm saying is that this is like my idea of the GREATEST FOOD IN THE WORLD. I mean, come on, just LOOK at that picture... gooey cheese... mmm...
I have tried many a times to find a good recipe for cheesy garlic bread that was good and tasted like the bread at The Black Angus restaurants, but I have NEVER been able to find one... until now. Pretty sure this will last me at least a week for meals. Yep, again, I'm a healthy individual.
Ingredients
8 oz shredded Mozzarella cheese
1 lb shredded sharp cheddar cheese
1/2 to 1 cup chopped green onion (to taste)
1/2 cup mayonnaise
2 Tbsp sour cream (optional)
3-4 cloves garlic, minced
1 stick unsalted butter (1/2 cup, 4 ounces), softened to the point of being slightly melted
1 to 2 loaves of French or Italian bread (I used 1 GIANT French loaf from Basha's)
Directions
In a large bowl, mix together the cheeses and the green onion. Stir in the mayonnaise and sour cream. In a separate small bowl blend the butter and garlic until smooth. Add the butter mixture to the cheese mixture.
Preheat broiler. Slice loaf of bread in half horizontally, lay crust side down. Spread cheese mixture over the bread. Place under the broiler until nicely browned, about 3 to 5 minutes.
Remove from broiler and let sit for 5 minutes until cool enough to handle. Slice the bread with a bread knife. Serve.