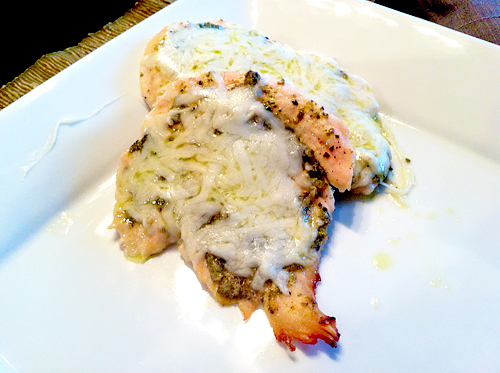 Well, I'm kind of on a roll after the successful Apple Cider Pudding Cake this past weekend, so I was in the mood to try another new recipe for dinner tonight and it was super delicious! The chicken was juicy and the basil pesto with mozzarella and parmesan cheese was perfect together!
Ingredients
3 boneless, skinless chicken breasts
salt and fresh pepper to taste - I used fresh ground sea salt because it just tastes better
garlic powder to taste - I added this mainly because I love garlic!
6 tsp Basil Pesto - I used Buitoni Pesto with Basil
1 medium tomato, sliced thin (optional)
8 tbsp shredded reduced fat mozzarella cheese
3 tsp grated parmesan cheese
Directions
Wash chicken and dry with a paper towel. Slice chicken breast horizontally to create 6 thinner cutlets. Season lightly with salt, fresh pepper, and garlic powder.
Preheat the oven to 400° F. Line baking sheet with foil or parchment for easy clean-up. Make sure the baking sheet has 4-sides otherwise you WILL set the house on fire.
Place the chicken on prepared baking sheet. Spread 1 tsp of skinny pesto over each piece of chicken.
Bake for 15 minutes or until chicken is no longer pink in center; I like my chicken a little crispy, so I did 20 minutes. Remove from oven; top with tomatoes, mozzarella and parmesan cheese. Bake for an additional 3 to 5 minutes or until cheese is melted.
ENJOY the deliciousness!