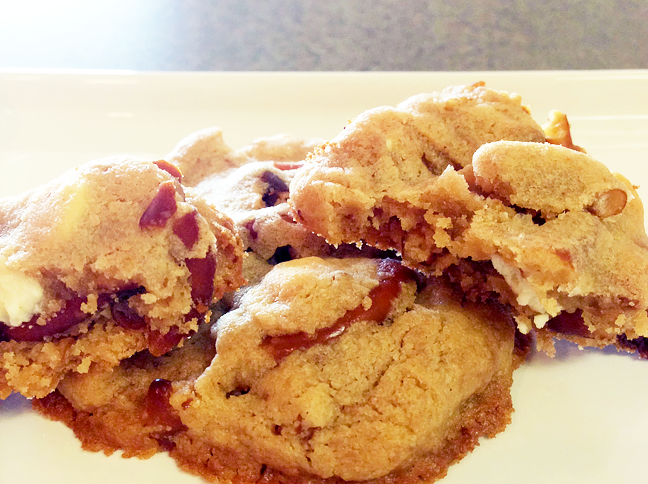 Ok, so I've made these before, a couple of years ago, but apparently there were too many people (see: my dear pregnant sister) who didn't get any and were unaware that these gems were around. That being said, I got a lovely request/demand that I make these again.
These cookies are the bees knees, m'friends. Sweet and salty? It's like my favorite combination... EVER. I added a couple of things to the original recipe to make them, I think, better. So, enjoy!
Ingredients
1 stick softened butter, 8 tablespoons
1/2 cup granulated sugar
1/2 cup packed light brown sugar
1 cup white chocolate chips, to melt
1 1/4 cups creamy peanut butter (reserve 2 tablespoons to add to melting white chips)
1 large egg
2 teaspoons vanilla
1 1/4 cups all purpose flour
1/2 teaspoon baking soda
1/4 teaspoon kosher salt
1 cup broken pretzel pieces
1 Cup additional white chocolate chips
1/2 Cup chocolate chips
1/2 Cup peanut butter chips
Directions
Preheat oven to 350 degrees F. Cream butter and sugars until light and fluffy. Melt white chocolate chips and 2 Tablespoons peanut butter over a double boiler until melted. Add melted chocolate chips and remaining peanut butter to beaten butter and sugars. Beat in egg and vanilla.
Place flour, baking soda and salt in bowl; mix to combine. Add to wet ingredients until just combined then pour in pretzels and additional white chocolate chips and the peanut butter chips and chocolate chips. With a cookie scoop, scoop dough onto a parchment lined baking sheet. With the palms of your hand, gently press down each cookie to about 1/2 inch in thickness. Sprinkle each cookie with a touch of sea salt. Bake for 12-15 minutes or until edges become golden and slightly crisp. Let cool for 10 minutes on baking sheet before removing.