Ok, so we're a little over a week into the 2012 Fall TV Season and since there are so many new shows (and returning favorites) that I'm watching this season, I figured I would try and tackle the new shows first and group them all together. After a couple of weeks, if I'm still watching them, they will each get their own entries. So, here goes week one: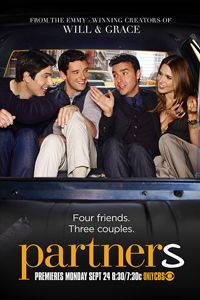 Partners (CBS - Mondays 7:30pm)
I had this show on my list because it has Michael Urie from Ugly Betty and Sophia Bush from One Tree Hill. I didn't really care either way about the other two except for the fact that one of them played the last Superman and the other was an elf in the Santa Claus movies with Tim Allen, but I digress...
I wasn't expecting much because it was a new comedy and on CBS. Typically, new comedies don't do well (aka suck) and the fact that it's on CBS means that it won't really be too "hip" with the kids. So, yeah, I have a feeling this show will be my first castoff of the fall TV season. I like to give all new shows at least 2 episodes before I say yea or nay because the pilots are typically filmed so far in advance of any other episodes, they typically improve by the second episode. I'm hoping this one picks up only because I really like Michael Urie and Sophia Bush, but the pilot gives me no hope whatsoever. It was just plain awkward and the "gay" jokes were just sad and seemed to be pulled from an Adam Sandler movie where he pretends to be a gay man. Yep. Plus, the laugh track REALLY doesn't help anything. I've never really understood the purpose of the laugh track. I mean, I know it's supposed to let the audience know that something funny just happened or something hysterical was said by a character, but I find it way more distracting than anything. Plus, I like to determine for myself if something is funny and with this show, it was few and VERY far between.
It gets another shot tomorrow night (10/1), but I'm not holding my breath.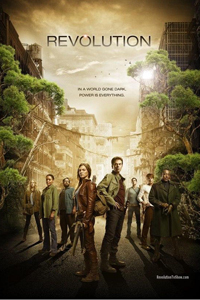 Revolution (NBC - Mondays 9:00pm)
I know, I know, this how is 2 episodes in now, but I just can't seem to make up my mind. After the premiere, I wasn't terribly impressed with the acting, but I was going to give it my 2 episode rule no matter what. The concept of the show is very interesting:
"What would you do without it all? In this epic adventure from J.J. Abrams' Bad Robot Productions and "Supernatural's" Eric Kripke, a family struggles to reunite in an American landscape where every single piece of technology - computers, planes, cars, phones, even lights - has mysteriously blacked out forever."
The key words in that descriptipon are "J.J. Abrams" and "Eric Kripke". Hello? LOST and Supernatural?! I love both of those shows. Plus, with my job, the idea of having no electricity or internet just boggles my mind, so I wanted to see how they did it. As I mentioned, the first episode left quite a bit to be desired with the acting, but I gave it another shot with the second episode. Sadly, it wasn't much better at all, but then that damn Kripke had to go and bring in an interesting character with an actress that can actually act and he ended it on a damn cliffhanger. I CANNOT deny myself a cliffhanger. Seriously. If I left this show now, it would keep me awake at night... well... not really, but I would really want to know how it ends. So, it looks like I'm back at it again tomorrow with this show for episode 3. Two episodes isn't a rule, but I just like to give a show at least 2 episodes before I decide for sure. This one just happened to grab my attention at the end of the second episode. So, episode three? Here I come.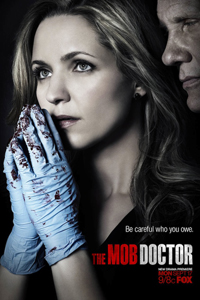 The Mob Doctor (Fox - Mondays 8:00pm)
Ok, so obviously I wanted to start watching this show because Matty Saracen is in it as a main cast member and I miss Zach Gilford on my screen every week. For those of you that know me, or don't know me, I LOVE Friday Night Lights! I think it is one of the greatest television shows ever and I will watch it all the time if I want to because it's that good and I have all 5 seasons on DVD.
Anyway, The Mob Doctor also has Jordana Spiro from My Boys, which I also loved and thought was absolutely hilarious, so I already like two of the main cast members; that's enough for me. I gotta say, I really like this show so far. It's got the medical mystery stuff, kinda like House (which I'm super sad is over), but it's also got suspense and mysterious backstory with cute boys and scary mobsters... what's not to love?
Obviously, there is still a lot of backstory and characters to get into with the show, but I think if Fox gives it enough time to grow, it will be a great show. I really do recommend it for a fun new drama.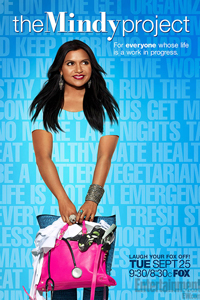 The Mindy Project (Fox - Tuesdays 8:30pm)
I love Mindy Kaling. I love her book "Is Everyone Hanging Out without Me? (and other concerns)". I loved her on The Office before I stopped watching it a couple seasons ago. So, of course, I was super excited to see her new show, which from the previews, looked hilarious! Plus, it has cute boys on it, which also helps. I was pleasantly surprised with this show. It was cute, funny, and just really good. I think it's a great pairing with "New Girl" on Fox, which I absolutely ADORE.
Honestly, check out this show because I can only see it getting better from the pilot. Also, did I mention there's gentleman on the show with an accent?! AN ACCENT?! You've got me, Mindy Kaling. You know a lady can't resist an accent. Nor should she ever have to. An accent is the one way to really get me to watch a show or movie. So, bring it.
Last Resort (ABC - Thursdays 7:00pm)
This show has 2 things I love: Scott Speedman (from Felicity) and Pembleton... I mean, Andre Braugher from one of the greatest shows ever, "Homicide: Life on the Street". Now, a whole lotta shit went down in the first episode; it was kind of overwhelming and I don't really even know who the bad guys are or who I should be rooting for. All I know is that the government is corrupt and the Captain (Pembleton) is kinda crazy, but good crazy. I have a feeling I'll stick with this show, but obviously I'll have to see how the second episode goes since the pilot had SO MUCH in the just 40 minutes that went to air. Overall though, I really like the first episode, but again, we'll see how things progress.