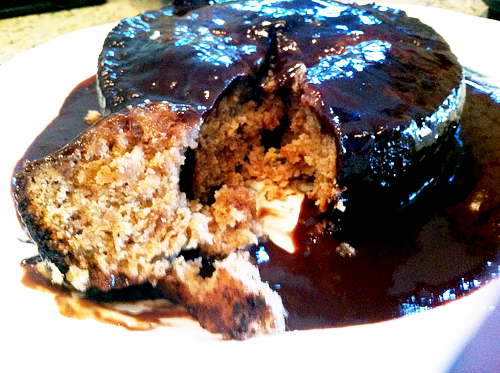 This was made in the crock-pot, fools! The crock-pot! And it is amazingly delicious and SUPER easy! I think I may just have to test out all of the dessert recipes in my slow cooker recipe book if they all turn out this yummy!
Ingredients
1 cup all-purpose flour
1 cup sugar, divided
1 1/2 teaspoons baking powder
2 teaspoons cinnamon (I added this to the recipe because cinnamon makes everything better!)
1/2 cup toffee bits (I added this to the recipe because toffee bits are delicious!)
2/3 cup milk
2 tablespoons vegetable oil
1 teaspoon vanilla
1/2 cup peanut butter
1/4 unsweetened cocoa powder
1 cup boiling water
Directions
1. Coat crock-pot with nonstick cooking spray or butter. Combine flour, 1/2 cup sugar, baking powder, and cinnamon in medium bowl. Add milk, oil, vanilla, and peanut butter. Mix until well-blended. Add toffee bits and mix. Pour batter in crock-pot.
2. Combine remaining 1/2 cup sugar and cocoa powder in small bowl. Stir in water. Pour into crock-pot. DO NOT STIR.
3. Cover; cook on HIGH 1 1/4 to 1 1/2 hours or until toothpick inserted into center comes out clean. Allow cake to rest 10 minutes, then scoop into serving dishes or invert onto a serving platter.
I ended up inverting the cake onto a serving tray because while cooking, the recipe makes it's own fudge topping, which ends up at the bottom, so I wanted to make sure I got everything. :)