So, you guys, I don't know if you know this, but I'm kind of a big Klaus/Caroline shipper and I don't even care what anyone says. They're chemistry is just ridiculous and tonight's episode was an amazing one for them. Yes, Klaus is going off to his own show and leaving Caroline behind, but I'm calling it right now, Caroline joins the spinoff for season 2. That's just it. That's how it's gonna go down. Their main scene together tonight made me weepy and, if I'm being honest, I'm still a little fangirly weepy just thinking about it.
"Tyler is free to come back. He was your first love; I intend to be your last."
Why don't you just kill me with the feels now?! Sweet christ.
Oh, yeah, and this happened...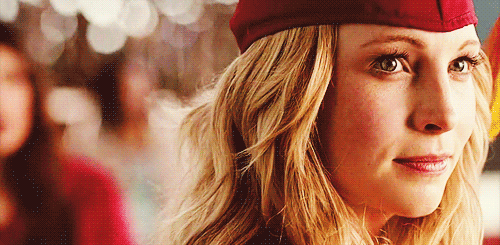 She sent him a goddamn graduation announcement! Seriously. I died. When he showed up and saved her from the witches and she just smiled at him because she was happy he came? I died again. Right in the feels.
Also, let's reflect on THE moment:
All said in Joseph Morgan's delicious accent with his lips and his suit. It was just all sorts of amazing, which then led to this: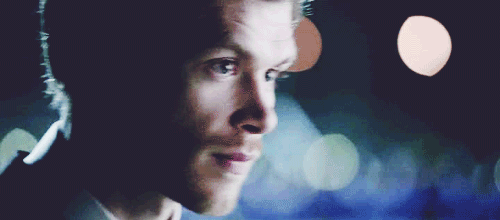 He takes his time with it and Caroline lets him. Let's take a look at it again, but in black and white...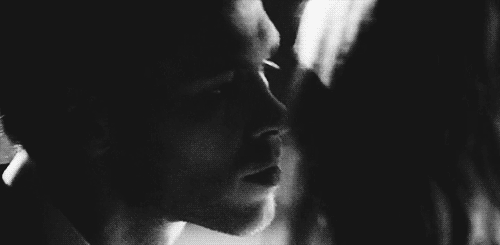 I don't see myself getting over this for at least a few days. It was just perfect. It was a little bit of closure, but gave us hope for the future... no matter how long it takes.
Oh, yeah, and here's the video to play over and over again...
Now, on to the live-tweeting portion of today's posting:
5 minute warning until #TVD finale shenanigans and chaos begin.

— Walla Walla Sweets (@nicaha23) May 17, 2013
Previously on #TVD: 42 different plot-lines all happened at once. And now we're gonna try to bring them all to close in 60 minutes.

— Walla Walla Sweets (@nicaha23) May 17, 2013
Oh yeah, and Bon Bon died. #TVD

— Walla Walla Sweets (@nicaha23) May 17, 2013
KOL!!! #TVD

— Walla Walla Sweets (@nicaha23) May 17, 2013
Kol's the only one with any sense. #TVD

— Walla Walla Sweets (@nicaha23) May 17, 2013
Bon Jovi? Really? We get it. #TVD

— Walla Walla Sweets (@nicaha23) May 17, 2013
Caroline will NOT let you cancel graduation. #donotfuckwithher #TVD

— Walla Walla Sweets (@nicaha23) May 17, 2013
Poor Matty! #TVD

— Walla Walla Sweets (@nicaha23) May 17, 2013
I heart Vaughn and his damn accent. #TVD

— Walla Walla Sweets (@nicaha23) May 17, 2013
Well ok, Vaughn starved to death. That sucks. Kinda shitty way to go on this show. #TVD

— Walla Walla Sweets (@nicaha23) May 17, 2013
Ok, first break, thoughts are: more Caroline please. Also? When's Klaus coming in his suit? #TVD

— Walla Walla Sweets (@nicaha23) May 17, 2013
Oh Matty, you're so adorable and precious. #TVD

— Walla Walla Sweets (@nicaha23) May 17, 2013
"I don't think red is really your color, Bon Bon" oh, Katherine, I heart you. #TVD

— Walla Walla Sweets (@nicaha23) May 17, 2013
MAKE KATHERINE IMMORTAL #TVD

— Walla Walla Sweets (@nicaha23) May 17, 2013
The sire bond is gone? What?! Because her emotions are back on again? I don't understand this logic. #TVD

— Walla Walla Sweets (@nicaha23) May 17, 2013
Well, we know why Klaus is back... Fuckin' Damon. #TVD

— Walla Walla Sweets (@nicaha23) May 17, 2013
Digging up Silas? I thought you had Ric throw him in the ocean? #TVD

— Walla Walla Sweets (@nicaha23) May 17, 2013
Vaughn is having none of your shit, Damon. #TVD

— Walla Walla Sweets (@nicaha23) May 17, 2013
Good for you, Rebekah! Get it gurl. #TVD

— Walla Walla Sweets (@nicaha23) May 17, 2013
Caroline calling Klaus? Adorable. #TVD

— Walla Walla Sweets (@nicaha23) May 17, 2013
The mayor MCs graduation in Mystic Falls? #TVD

— Walla Walla Sweets (@nicaha23) May 17, 2013
"Klaus, now is not the time to pretend you're over me!" Adorable. Precious. Klaus hasn't even shown up yet & it's all Klaroline love! #TVD

— Walla Walla Sweets (@nicaha23) May 17, 2013
Ric is kinda awesome. #TVD

— Walla Walla Sweets (@nicaha23) May 17, 2013
KLAUS SAVED CAROLINE! And she's happy to see him! #TVD

— Walla Walla Sweets (@nicaha23) May 17, 2013
Are we just supposed to assume that Elena apologized to Caroline off camera? #TVD

— Walla Walla Sweets (@nicaha23) May 17, 2013
Klaroline! #TVD

— Walla Walla Sweets (@nicaha23) May 17, 2013
Caroline sent Klaus a graduation announcement! #TVD

— Walla Walla Sweets (@nicaha23) May 17, 2013
"He's your first love; I intend to be your last." OHMYGOD!!!!! #klaroline #TVD

— Walla Walla Sweets (@nicaha23) May 17, 2013
Not gonna lie. I'm teary from the Klaroline scene. #TVD

— Walla Walla Sweets (@nicaha23) May 17, 2013
He even kissed her on the cheek. He said he'd wait, no matter how long it takes! #klaroline #feels #TVD

— Walla Walla Sweets (@nicaha23) May 17, 2013
Elena chose Damon? Look at all the fucks I don't give. #TVD

— Walla Walla Sweets (@nicaha23) May 17, 2013
I do feel bad for Stefan though... #TVD

— Walla Walla Sweets (@nicaha23) May 17, 2013
MORE KLAROLINE PLEASE!! It just made me so happy! Yeah, I'm a big shipper, but I don't care! They are just lovely! #klaroline #TVD

— Walla Walla Sweets (@nicaha23) May 17, 2013
Why are you burying Silas?! #TVD

— Walla Walla Sweets (@nicaha23) May 17, 2013
Stefan is a bigger man than Damon. #TVD

— Walla Walla Sweets (@nicaha23) May 17, 2013
Katherine!!! I was waiting for you! #TVD

— Walla Walla Sweets (@nicaha23) May 17, 2013
Jeremy's back and human! #TVD

— Walla Walla Sweets (@nicaha23) May 17, 2013
Bon Bon's still dead though. #TVD

— Walla Walla Sweets (@nicaha23) May 17, 2013
Rebekah and Matt going on a road trip?! Fantastic!! #TVD

— Walla Walla Sweets (@nicaha23) May 17, 2013
Katherine throwing Elena around is amusing. #TVD

— Walla Walla Sweets (@nicaha23) May 17, 2013
Katherine's human now?! Please don't kill her! #TVD

— Walla Walla Sweets (@nicaha23) May 17, 2013
What?! Stefan has a doppelgänger and it's Silas? Now real Stefan is in the quarry? WTF?! #TVD

— Walla Walla Sweets (@nicaha23) May 17, 2013
I would like to know what happened when Klaus and Caroline walked off together after their moment... #needmore #TVD

— Walla Walla Sweets (@nicaha23) May 17, 2013
Well, there we go folks. It's been quite the clusterfuck of a season & now Klaus is gone & no more Klaroline & Katherine is human... #TVD

— Walla Walla Sweets (@nicaha23) May 17, 2013
...and I still don't know if I'll be watching next season or not or the spinoff, only time, and a good long break, will tell. #TVD

— Walla Walla Sweets (@nicaha23) May 17, 2013